I have just completed my latest mural for the City of South Gate Police Department. The goal of the project was to create a series that would evoke a sense of pride and commemorate the department's history. The design process was a collaborate effort with members of the department.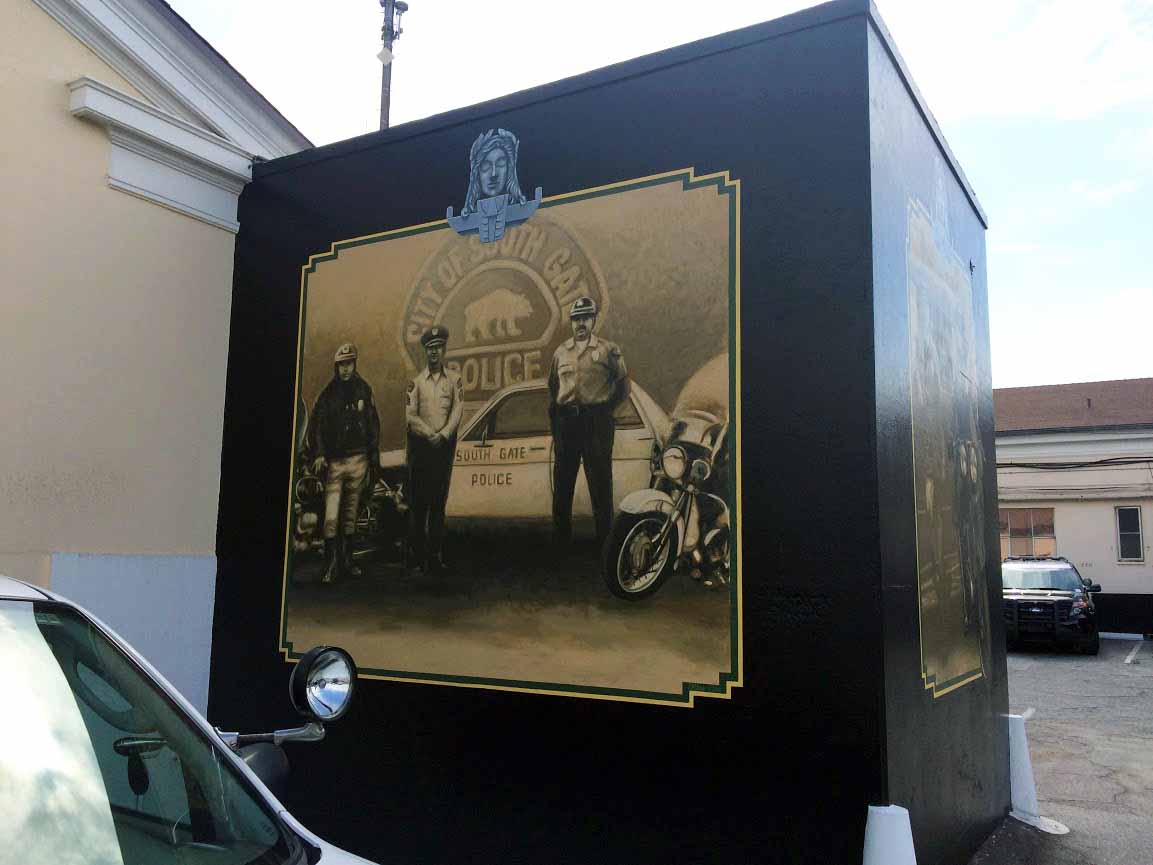 The Original Tan and Green
is considered the over arching theme for the three murals. The phrase comes from how they are represented in uniform. South Gate PD maintains the green and tan uniform colors, pre-dating the sheriff's department. This distinguishes them from other police departments, who primarily wear customary dark navy blue.
The focal point In the center of the large mural is the seal for the City of South Gate with a tan and green customization. The city seal is flanked on both sides by badges representing past and current officers. Elements recognizing the city and the department are repeated throughout the three murals. A City of South Gate map works as a setting for all the imagery and references the scope of the city's area.
The adjacent building depicts two periods of the department's history, the 70's and 30's. Each were painted in an expressionistic style in order to create a balance with the very formal imagery.
PROCESS
Community
participation was an important part of the project. On a Saturday morning in April, members of the local community and police department were invited to paint on sections of the mural. This component of the project creates communication, cooperation, and fosters creativity using public art.
Special thanks
City of South Gate
Mayor Jorge Morales, Vice Mayor W.H. Bill De Witt, Council Member Maria Belen Bernal, Council Member Maria Davila, and Council Member Gil Hurtado.
City of South Gate Parks & Recreation Commission
Art in Public Places Fund
The City of South Gate Police Department